Skip to content
Skip to navigation menu
Wurth USA
Product Launches
WORK LIGHTS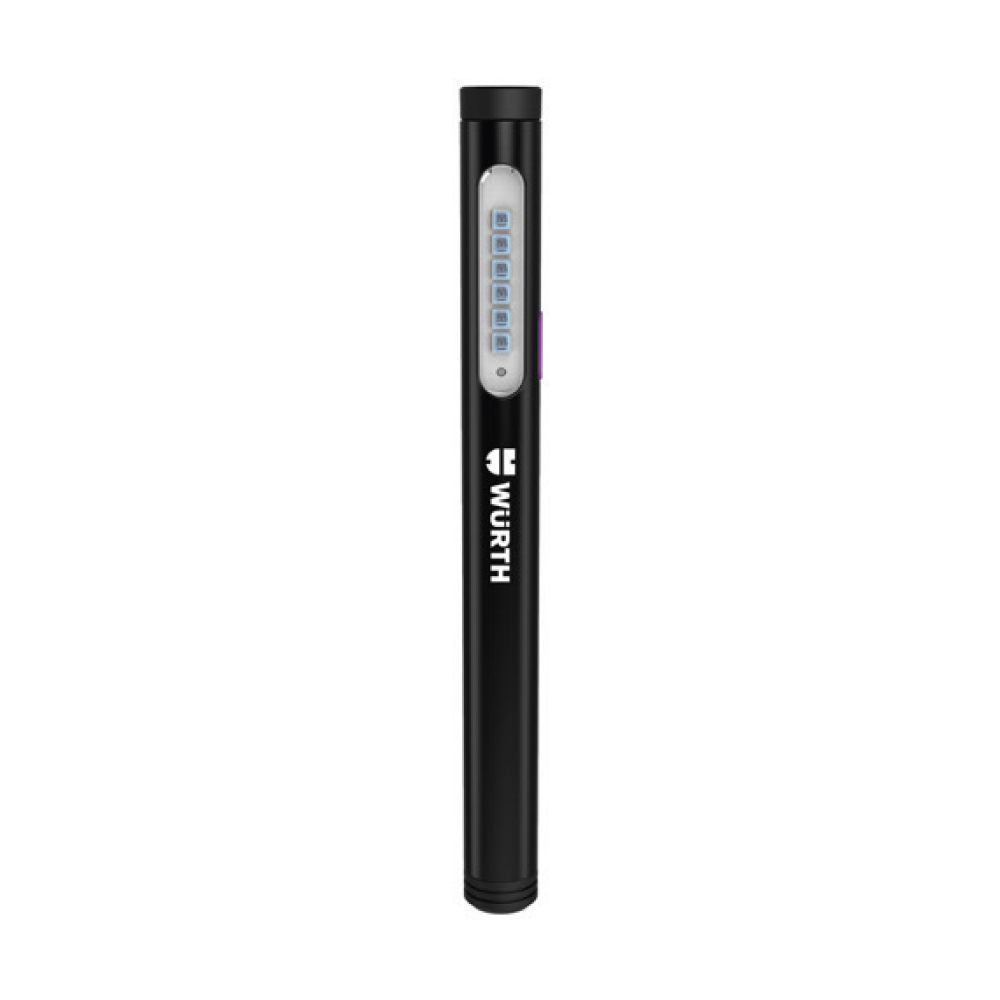 UV Leak Detector LED Pen Light
Powerful UV LED Pen Light is the perfect leak finder! The lights compact size and high intensity is ideal for use in the tightest and hardest to reach places. Allows for quick and easy detection of leaks in any vehicle!
Features:
• Easily toggle between UV Light and spotlight with a single button
• Ultra-slim design for confined work areas
• Handy pocket pen size is easy to use, store and transport
• Strong magnet on pocket clip
• Lightweight
• Impact-resistant ABS housing with polycarbonate clip and lens resists breakage
• Operates on 2AAA batteries (included)
---
SPRAY TOOLS
---
STORAGE
---
RANGER QUICK-PEEL™ SEGMENTED ADHESIVE STEEL WHEEL WEIGHTS
Ranger Dual Adhesive WW Roll
Features:
• Silver or black powder-coated surface helps eliminate corrosion and staining of expensive wheels
• Quick-Peel™ liner for trouble-free use.
• Designed to have same fit, function & look as OEM weights. Narrow profile contours easier to OEM wheel shapes
• Lead-free, steel construction has less impact on the environment Slender profile and out-of-sight mounting capability enhance the looks of any wheel
• Low-profile design for increased clearance of close proximity calipers or brake components
Ranger Adhesive Wheel Weights on a Roll Silver
Ranger Adhesive Wheel Weights on a Roll Black
---
---
---
SENTRY PRO STEEL TOE EV HAZARD BOOTS
STEEL TOE EV HAZARD BOOTS
• Durable PVC liquid-resistant work boot provides a comfort fit
• Electric Hazard Protection (EH Rated): Equipped with electric shock resistant soles and heels, capable of withstanding 18,000 volts
• Steel toe meets ASTM F-2413 standards bearing a class 75 rating
• Superior SFC slip-resistant outsole provides slip resistance
• Built-in and patented clog resistance outsole allows for easy cleaning after tough tasks
---
---
---
---
---
---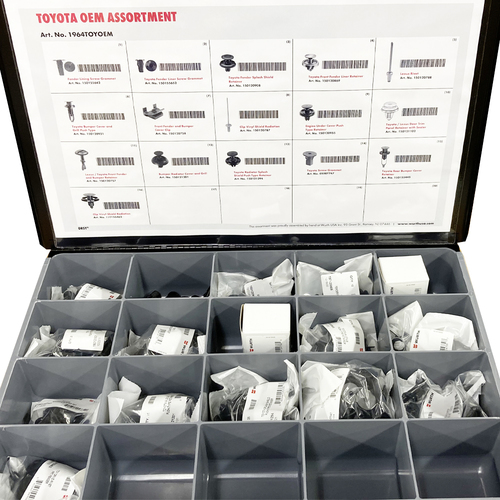 ---
New Glass Cleaner
---
Adhesive Wheel Weights
Quk Stick Stl Roll 0.25oz 1280 PC 1 ROLL
$127.990
The new Quickstik Steel Adhesive Wheel Weights On A Roll are a low profile wheel weight that features an aftermarket optimized coating for corrosion protection. These weights are ideal for almost every balancing application. The weights have a strong adhesive backing that will adhere to almost all surfaces. These weights can be use on steel and aluminum rims. Types of vehicles that can they can be balanced on are Cars, Trucks, Vans, Suv's, Fleet vehicles, Medium Duty trucks.
---
New Fuse Assortment
---
New Cleaners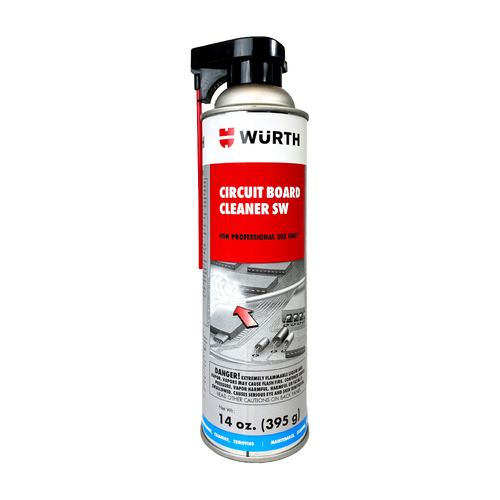 Circuit Board Cleaner SW
$24.355 MOQ 2
Circuit Board Cleaner SW is a fast drying, nonconductive formula, which leaves no residue and is safe for use on plastics, rubber and metal. This product's blasting spray easily cleans oil, dirt, flux and other contaminates from printed circuit boards. Can be used as a special spray – rinse for removing oxide and sulphide layers loosened by Contact Cleaner OL.
---
Contact Cleaner OL
$19.983 MOQ 2
Contact Cleaner OL is formulated for improved cleaning and moisture displacement. Contact Cleaner OL is an electronic cleaner, which will remove dirt, moisture, dust, flux, and oxides from the internal components and contacts of electronic devices, which include radios, compact disc players, DVD players and computer circuit boards. Leaves a protective antioxidation film behind.
TIRE BAGS
---
ALKALINE HIGH POWER Batteries
Long lasting and high-powered batteries manufactured for industrial or digital markets
Features
• Battery power for energy-intensive applications
• Long lasting performance plus leakage protection
• Highly recommended for devices with a high current requirement
• Longer operating times and up to 50% more power
• Very low self-discharge with shelf life of five years
• Practical packaging designed for dual use as a counter display
Benefits
• Useful sales tips included on the back of packaging of counter display
• Various applications per product
• Mercury and cadmium free
---
BUTTON CELL LITHIUM Batteries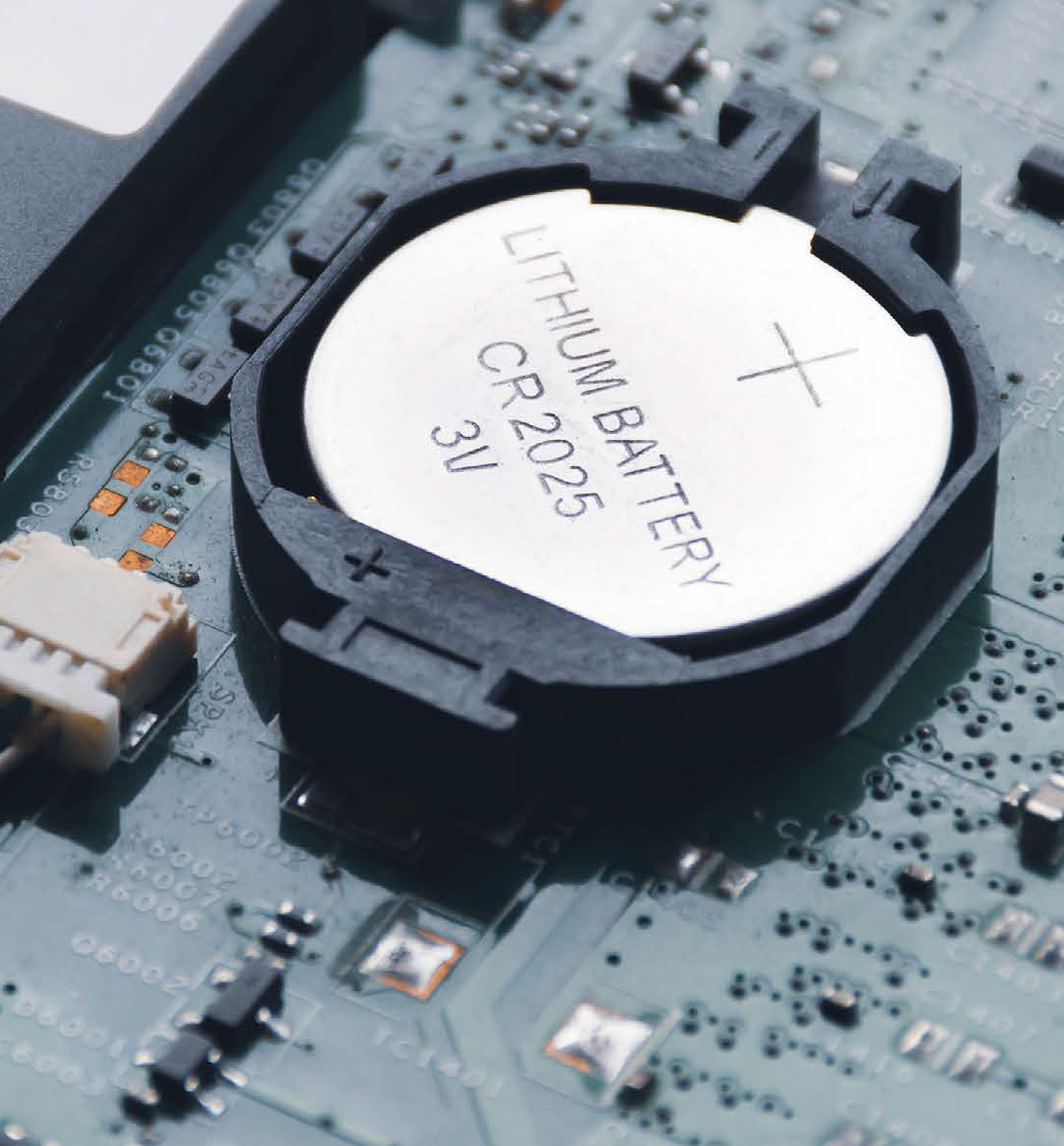 Reliable and efficient power with long lasting shelf life manufactured for any market
Features
• Only minor auto discharging
• Can be used in large temperature range
• High system voltage
• Long shelf life: for lithium cells > 5 years
Details/Application
• Pedometers, calorie counters, stopwatches, heart rate monitors, digital clinical thermometers, toys and games, electronic books, pocket calculators/PDAs, electronic scales, car alarm systems, watches, pet collars, laser pointers
---
High Temperature Grease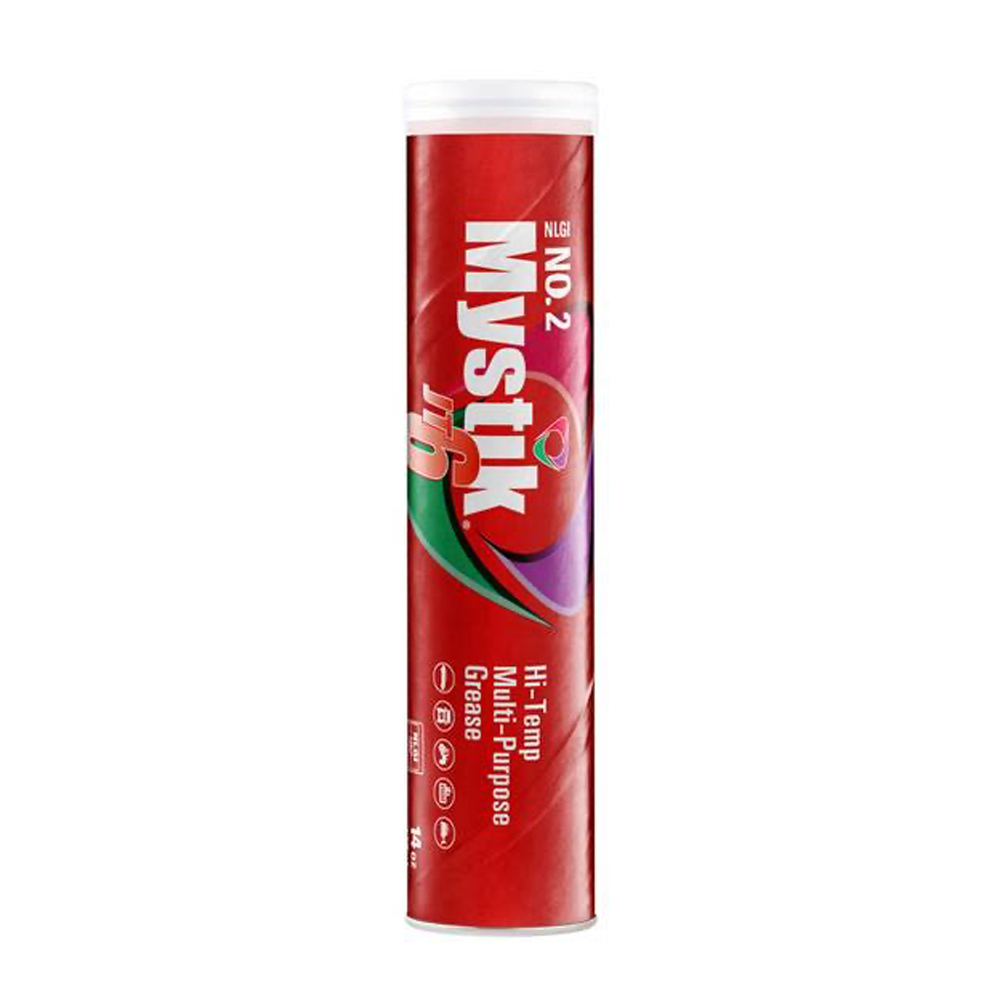 High Temperature Red Grease 14 oz cartridge
$9.290 MOQ 10
The Mystik® JT6 Hi-Temp Multi-Purpose Grease No 2 is a premium quality multi-purpose grease that provides exceptional service, Outstanding anti-wear and extreme pressure protection. Water resistant provides protection against corrosion. This lithium-complex grease combines excellent multi-purpose properties with a high dropping point and low-temperature pump-ability that provides a wide operating temperature range. Superior protection for a wide variety of automotive, agricultural, trucking, mining, construction and industrial equipment. Meets the highest performance categories of ASTM D 4950 Automotive Grease Classification, GC for Wheel Bearing Service and LB for chassis service.
---
BODY PROTECTION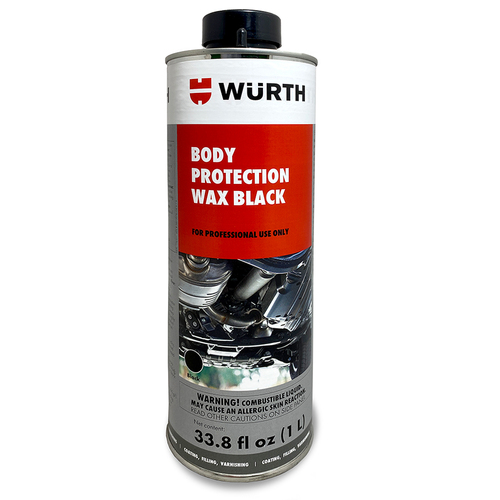 Body Protection Wax Black
$39.990
The Body Protection Wax is a black Non Paintable underbody, solvent based wax coating for optimal corrosion protection for areas at risk of corrosion. Use for supplementing and retreating all kinds of protective coatings and wax based underbody treatments based on PVC, rubber-resin and bitumen. Very well suited for treating plain metal surfaces.
---
CONTACT ADHESIVE
Spray Contact Adhesive 22 fl.oz. aerosol
$26.990 MOQ: 2
Spray Contact Adhesive is a very aggressive high tack adhesive cement that gives excellent results on a wide range of materials, such as; leather, cloth, cardboard, most plastics, headliner layers, foam, metals and wood. Bonds porous substrates while maintaining a high level of tack.
---
HEAVY-DUTY GLOVES
HEAVY-DUTY LATEX GLOVES
FROM $19.99
These gloves are made from heavy – duty industrial latex and are ideal for any job. The latex easily conforms to the contour of your hand providing a comfort fit and excellent dexterity! The gloves are powder-free, so they leave no residue, reducing the risk of contamination compared to powdered gloves.
---
FREE SOCKET HOLDER WITH PURCHASE
---
rescue hook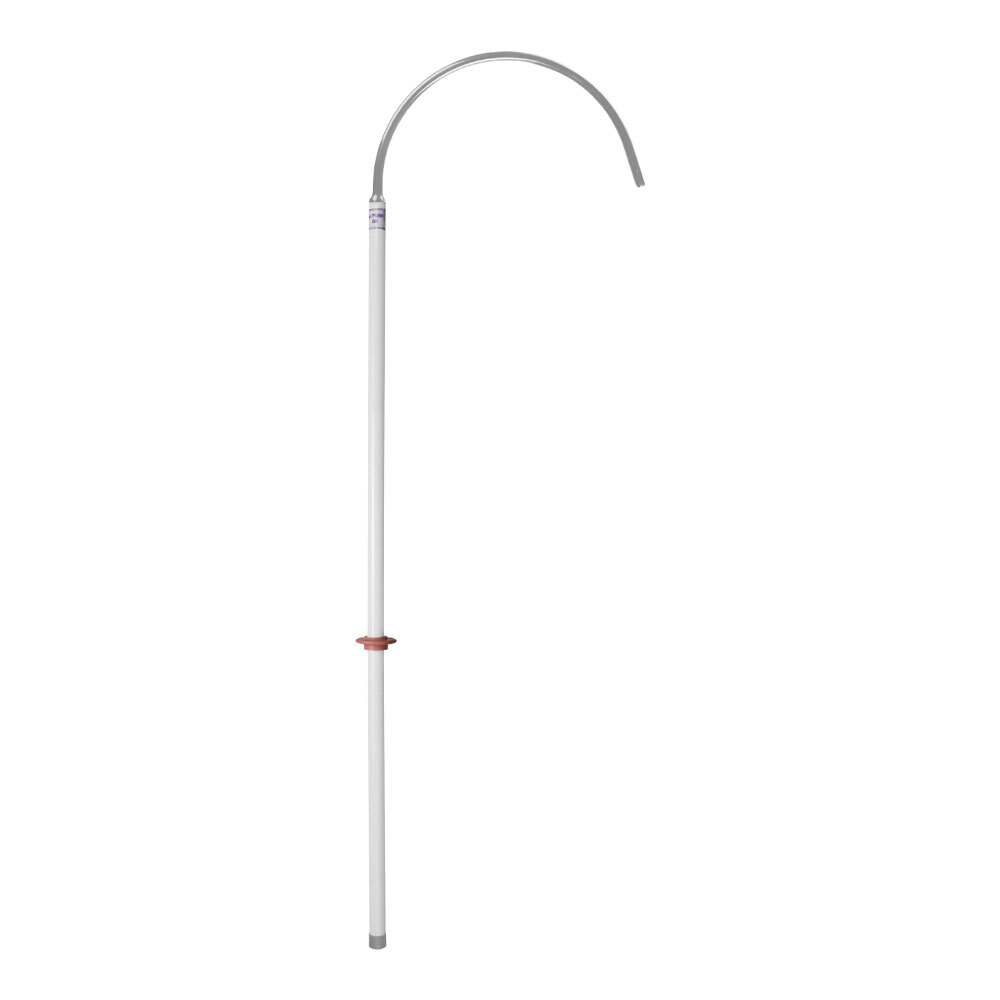 Rescue Hook - EV Insulated, 2 Meters Length
Safety Rescue Hook 45kV This rescue hook is designed to recover victims of electrocution and safeguard the life of the first aider. 1.65m in length, this rescue hook is made from durable resin polyester/glass fiber tube attached to a hook. The hook should be placed in a prominent area and easily accessible position near to the "live" site.
---
PERMATEX CATALOG
WURTH USA & PERMATEXT CATALOG
Wurth USA and Permatex have partnered to offer our customers the most complete line of chemicals.
---
NEW NITRILE GLOVES
NITRILE GLOVES HEAVY WEIGHT ORANGE - TEXTURE
$17.99 - $19.99
These gloves are made from 100% heavy-duty nitrile that is resistant to rips, tears, punctures, and many petroleum-based chemicals. The raised diamond texture ensures incredible grip-action, whether the gloves are wet or dry! The bold, highly visible orange color improves safety.
---
---
LEAK TRACING
LEAK TRACING POWDER aerosol net 7.5oz
$13.646
An aerosolized tracing powder & solvent solution. Locates: wind, water and dust leaks easily. Finds leaks around glass, doors, trunks, hatchbacks, body seams, and other areas where gaps or incomplete contact of weatherstrip occurs. Using Leak Tracing Powder is also a fast method of locating oil, transmission and other fluid leaks.
---
VALVE CAP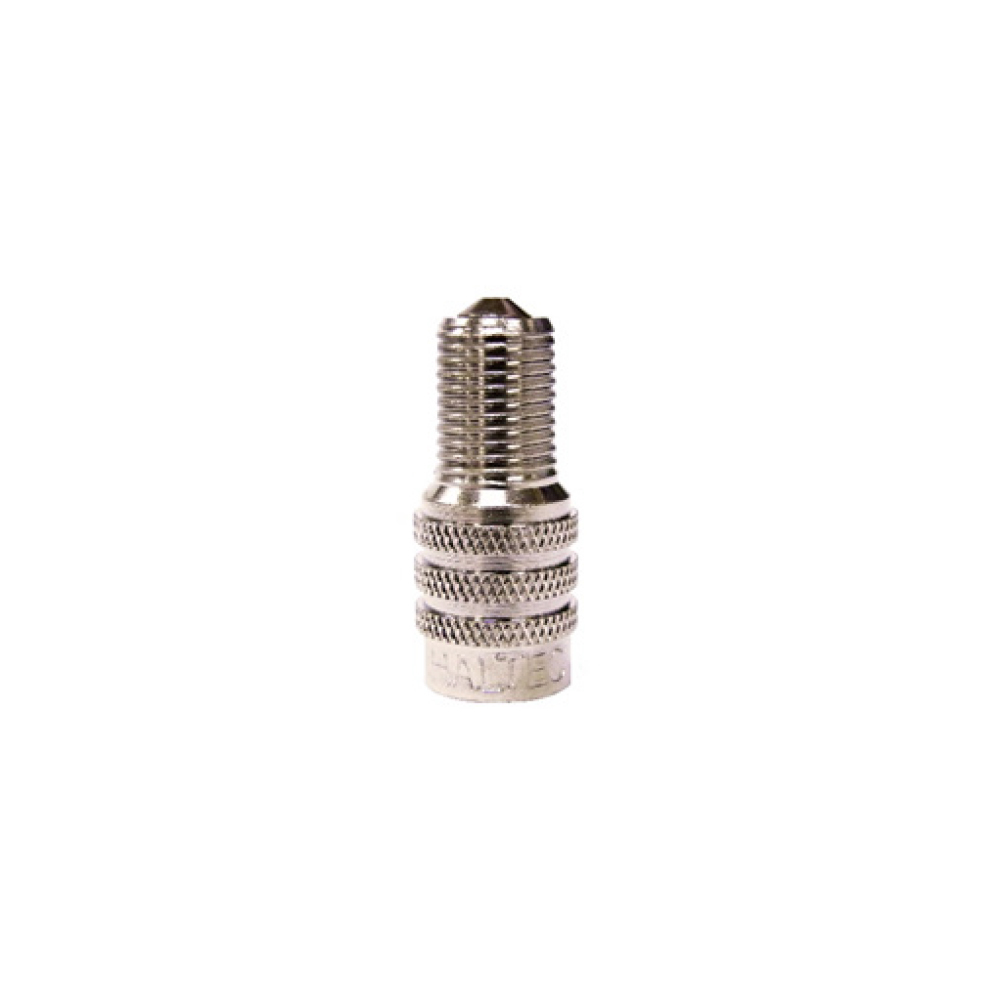 Double Seal Valve Cap
$1.150 MOQ: 50
The Double Seal flow-through valve cap is designed for high pressure truck tire service. Seals like a high pressure valve cap, yet offers the convenience of inflate through extensions. It also performs like a check valve- the seal becomes tighter in the event of a core failure. The Double Seal valve cap consists of a tough, all metal housing, precision fit brass components and durable self-sealing O-ring.
---
NEW TOOL SET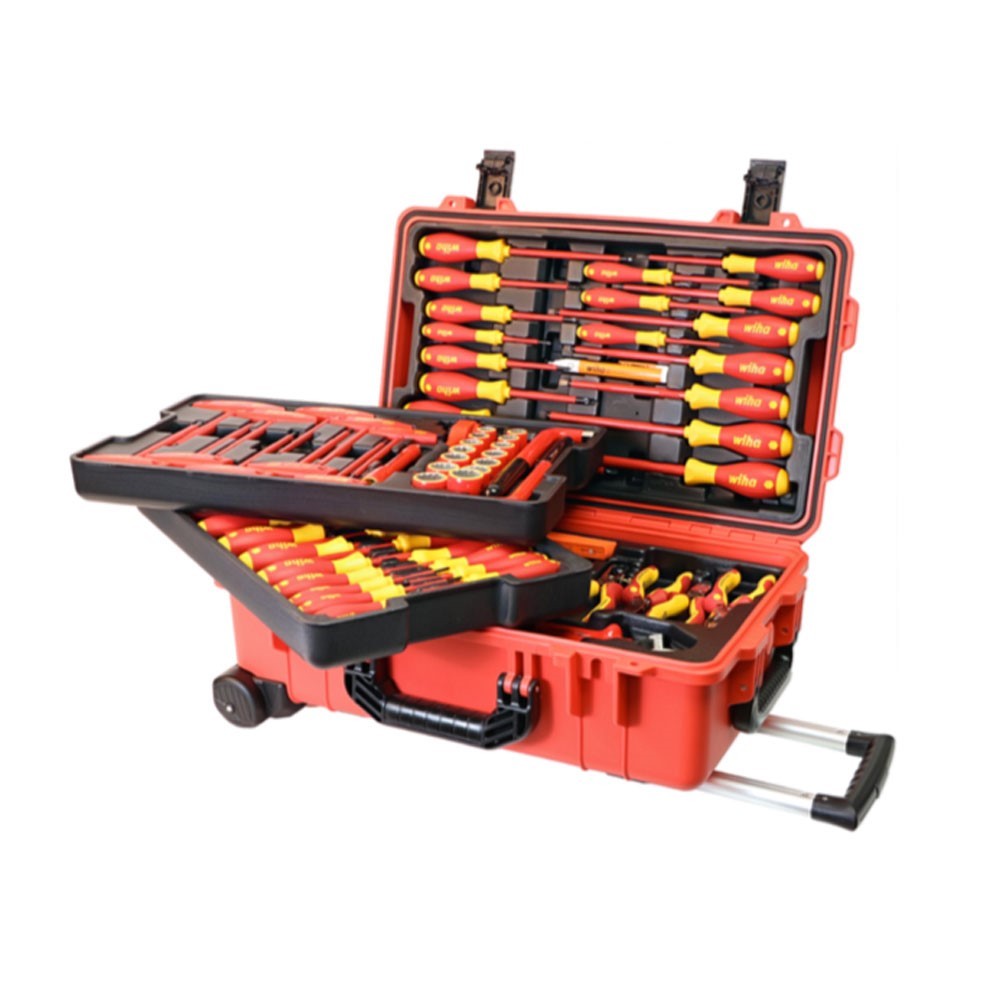 112 Piece Master Electrician Insulated Tools Set In Rolling Hard Case
$2,895.950
This 112 piece set includes an 80 piece insulated rolling carry case plus 32 insulated ring wrenches (inch ¼" – 1 ¼") and metric (8mm to 32mm). This set is ideal for automotive, MRO and job site solution for insulated tools.
---
NEW ERGO LIGHTS
ErgoPower Rechargeable LED Headlamp With Sensor
$54.990
Easily illuminates poorly lit areas with convenient hands–free operation. Ideal for vehicle repairs, paint matching, dimly lit areas, including: wheel wells…engine bays…inside a fender and more! The headlamp is rechargable and features a motion sensor switch that controls the light with the wave of a hand. It's the perfect light for every tool box!
---
ErgoPower LED Mini Flood Work Light
$69.990
Compact and lightweight design. The LED mini flood light is rechargeable and portable ... it brings ultra-bright light to any work area!
---